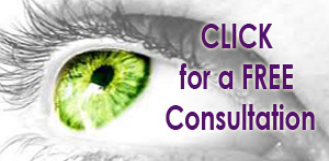 If you're tired right now, you're not alone. The Centers for Disease Control and Prevention (CDC) finds more than 40 million Americans get fewer than 6 hours of sleep per night.
Lack of Sleep and Your Vision:
With the increasing speed and stress of modern life, finding time for rest and a good night's sleep is more important than ever. Without enough sleep the body can struggle to function properly, including the eyes, making daily tasks more difficult and leaving you more exhausted. Even when you're relaxing, such as watching television or reading, your eyes are still working hard. Getting some shut-eye is really the only time your eyes have to rest and restore.
Symptoms of No Sleep:
One of the common giveaways of insufficient sleep is dark circles under the eyes, however, a lack of sleep, particularly over time, can have a more serious impact on the health of your eyes. Research has shown that your eyes need at least five hours sleep each night to allow for effective recovery from the day's activities. One common side effect of lack of sleep is eye spasms. Eye spasms are defined as involuntary eye twitches that occur when you have a spasm in your eyelid. These involuntary spasms are known as myokymia. Eye spasms should not be painful or do damage to your vision; however, they can be very aggravating and disruptive. Avoid eye spasms by making sure you get an adequate amount of sleep per night.
Over time, lack of sleep can lead to serious ramifications on your vision including popped blood vessels due to eye strain. Additionally, a shortage of sleep can cause dry eye, a condition when tears do not adequately lubricate your eyes. When dry eye sets in you can experience some pain, light sensitivity, itching, redness or even blurred vision. If you find that you are having a difficult time falling asleep at night, there are various options for remedying the situation. One thing you can do is to try drinking a cup of chamomile tea shortly before you plan to go to bed. This is a great way to relax before sleep. Another method that works for many people is reading a book in bed. You will likely find yourself getting drowsy, and then you can simply shut off the lights and fall asleep.
Remember that your eyes are kept busy all day long doing their job, and sleeping is the only time that they really get a break. Make sure that they get the rest they deserve by making enough shut-eye a priority!
Eye LASIK Midland offers a new approach to laser vision correction – allowing patients to work with the primary eye doctor they've known for years. This means the patient's optometrist performs all the work preceding the laser procedure, as well as all the follow-up visits. With Eye LASIK Midland, patients receive premium care from all the doctors they know and trust. Claim your complimentary consultation here or by clicking the image below. Better vision can be yours!