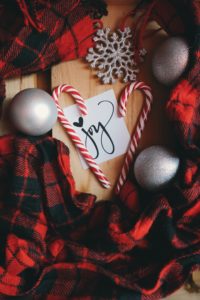 While we generally try to focus our blog on eye health and LASIK facts, we couldn't pass up the opportunity to share some of our favorite easy Christmas desserts. These sweet treats are sure to make everyone's eyes sparkle…and you will be less stressed than Santa's elves on December 23rd!
S'mores Bars
Enjoy the ooey-gooey goodness of s'mores without the wait…or the heat from the fireplace!
8 cups Golden Grahams cereal
10 ounces marshmallows (miniature work best)
5 tablespoons unsalted butter or margarine
1 1/4 cups chocolate chunks or chips
1 tsp vanilla extract
Place cereal in a large mixing bowl and mist a 13×9 inch pan with non-stick cooking spray. Set aside 1 cup of marshmallows.
In a large saucepan, melt marshmallows, butter, and chocolate together over medium-low heat, stirring frequently so that the marshmallows don't burn. Once the mixture has melted together, remove pan from heat and stir in vanilla.
Pour chocolate-marshmallow mixture over the cereal. Stir until well incorporated, then stir in the remaining marshmallows. Pour contents into the prepared pan, using a spatula to press the mixture firmly into the pan.
Allow to cool for at least 2 hours. Cut into squares to serve.
Homemade Hot Cocoa
Skip the mix! This winter classic is sure to keep you warm on chilly nights.
1/3 cup good quality cocoa powder
2/3 cup granulated sugar or sugar alternative
1/4 teaspoon kosher salt
1/3 cups boiling water
3 1/2 cups milk of your choice (also works very well with vanilla almond milk)
1 teaspoon vanilla extract
1/2 cup fat free half and half
Optional: see note below
In a large saucepan, bring water to a boil. Stir cocoa powder, sugar, and salt together and whisk into the boiling water. Reduce to a simmer and cook for 2-3 minutes.
Whisk the milk into the chocolate mixture. Stir frequently and heat until very hot but not boiling (this will scald the milk). Remove pan from the stovetop and stir in the vanilla extract and half and half. Serve immediately.
(Note: For holiday parties, you can create a "hot cocoa bar." Guests can add what they like to their mugs. Options include candy canes, whipped cream, marshmallows, peppermint extract, sprinkles, caramel and chocolate syrup, and others…let your imagination go wild!)
 From all of us at EyeLASIK…Merry Christmas!