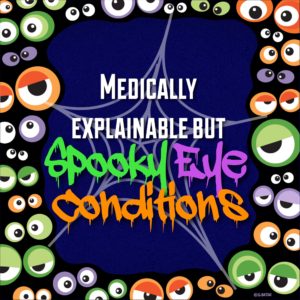 Boo! Are you ready for Halloween? All of us at EyeLASIK are certainly looking forward to it. The eyes are some of the most interesting parts of the human body. However, there are some spooky eye conditions that can occur. We're here to share some information about unusual eye conditions that can be considered eerie, but are medically explainable!
Star-Shaped Cataract
From a medical standpoint, cataracts are often considered to be fairly common (https://en.wikipedia.org/wiki/Cataract). Generally, they occur in older patients or those with a history of smoking, diabetes, or genetic predisposition. The lens begins to cloud, causing vision difficulty. If they aren't treated, the patient will eventually become blind.
However, one type of cataract is quite stunning in appearance. Several patients who have been involved in traumatic incidents have been diagnosed with star-shaped cataracts. You can see a video with the patient, who complained of gradual vision loss after being punched, here.
Heterochromia
While we've touched on this condition before, it's important to note that this condition can affect both animals and humans. In this condition, the irises are two different colors. There are two types of heterochromia:
Complete – Each iris is two separate colors.
Sectoral – A portion of the iris is a separate color than the remainder.
Central – Spikes of color different from the rest of the iris radiate from the pupil.
Haemolacria
This condition is by far the most unusual and is probably the most disturbing. This medical condition essentially causes a person to cry blood. Though there are only a handful of documented cases, they results are just as nerve-wracking. Some of the patients have experienced red-tinged tears, whereas others produce actual blood.
Some of the cases are attributed to unusual hormone production or tumors, while others were caused by eye injuries. However, the creepiest part is that, for some of the cases, there has been no medically explainable reason why the patients are producing bloody tears.
We hope we haven't spooked you with these spooky eye conditions. Happy October!