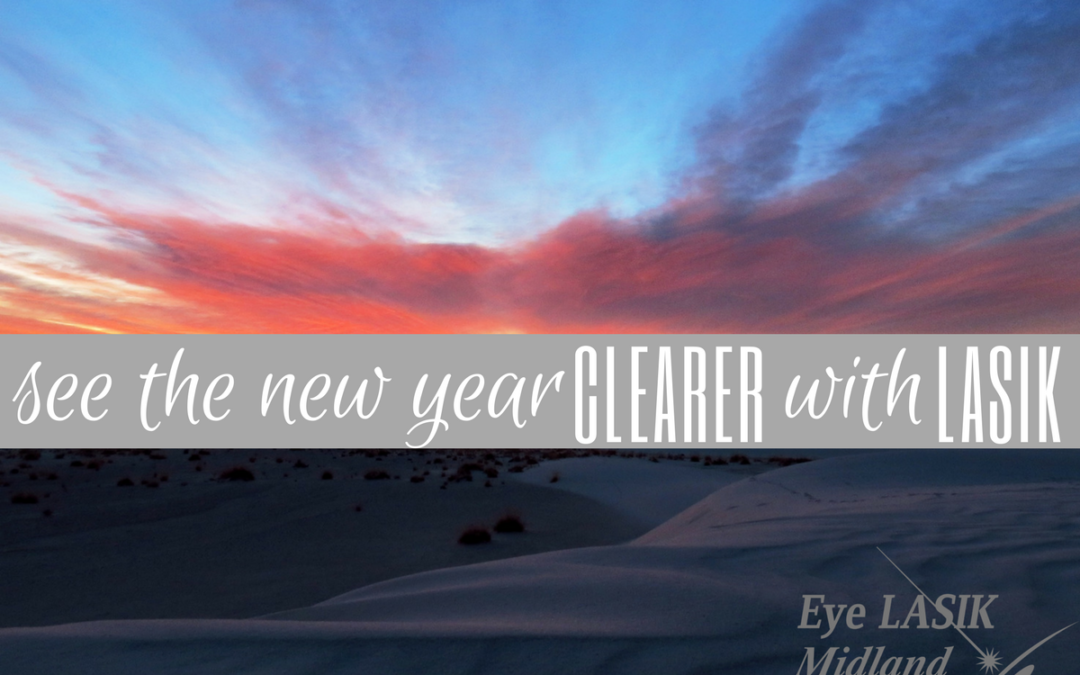 Welcome to 2018! What are your resolutions for this year? When it comes to a fresh start, the team at Eye LASIK Midland wants to share some of the reasons why you see the new year clearer with LASIK – it's a great thing to add to your annual list of goals.
Re-Focus Your Life: See the New Year Clearer with LASIK
1. Contacts and Glasses are Expensive
Have you added up all of the costs of eyewear over the years? Think about it…and we're not just talking about the actual glasses and contacts. Add up the price for annual eye exams, contact solution, and other additional expenses (like all the stuff insurance won't cover) since you've been wearing prescriptions. LASIK is an excellent alternative to those costs.
2. Enjoy New Freedom
When it's cold, your glasses will fog up. If there's wind, you risk getting sand in your contacts. It's a massive pain if you leave your contact kit at home when you go on vacation. With LASIK, all you need is a pair of great sunglasses to protect your eyes from the sun.
3. LASIK is Affordable
Not sure you can pay for LASIK? Eye LASIK Midland offers affordable financing options from Care Credit. It's an ideal way to cover the cost of your procedure and minimize your out-of-pocket expenses. If you've got an FSA or HSA healthcare plan, LASIK is an approved procedure for those funds (though we encourage confirming this with your provider).
4. Save a Little Time
How much time do you spend dealing with your glasses and contacts daily? Whether it's cleaning them, putting them on, or picking up supplies, it certainly adds up. We understand that your time is money – that's why LASIK is a great way to carve out a little bit more time for other things each day. Additionally, LASIK recovery is easier than you may think.
---
Are you ready to start 2018 in a big way? We make it easy with our no-obligation complimentary consultation. We'll evaluate your eye health history, give you a tour of our state-of-the-art facility, explain the procedure, and discuss payment options. Schedule your consultation with Eye LASIK Midland now.