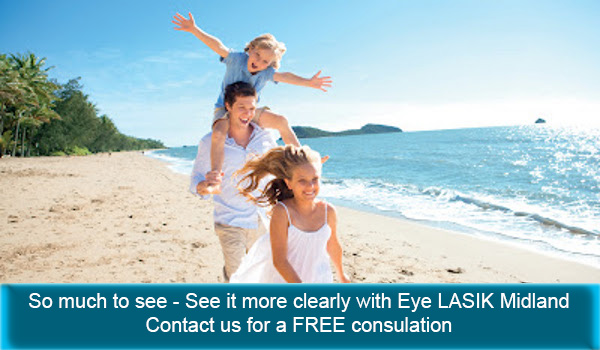 Walk into your favorite grocery store and take a closer look at the people around you. How many people are wearing glasses? The fact is, loss of normal vision is extremely common. Some people don't mind wearing glasses or contacts, but many find themselves wishing for a better way, LASIK eye surgery is the answer for many people. LASIK eye surgery is the better way to correct vision for many individuals.
For those with conditions such as astigmatism, which makes it difficult if not impossible to completely correct vision through use of contacts or glasses, LASIK eye surgery can make a difference. Although LASIK vision surgery has been practiced for more than two decades, not everyone is sure what it is or if it is right for them.
First of all, a quick definition of LASIK surgery: LASIK eye surgery corrects vision problems including but not limited to near-sightedness, far-sightedness, and astigmatism. In LASIK, a thin flap is created on the cornea. Corneal tissue is then removed and reshaped and the flap is closed, which creates the corrected focus. LASIK is short for laser-assisted in-situ keratomileusis, the technical term for the surgery.
LASIK eye surgery is the most common type of refractive surgery
. LASIK eye surgery is so successful – over 98 percent of LASIK surgery patients achieve their desired results. The change in vision is achieved quickly following surgery, and the long-term results are excellent.
So, are you a good candidate for LASIK eye surgery?
Here are some points to consider:
You have astigmatism, which makes your vision difficult to correct with glasses or contacts
You participate in activities such as sports or water activities and would prefer not to wear contacts or glasses
Contact lenses are uncomfortable for you to wear
You don't enjoy the fit or feel of glasses on your face
You would like to wake up in the morning and be able to see clearly
You dislike the cost associated with buying contacts year after year
You have had stable eyesight for at least a year, with no history of significant eye conditions such as glaucoma or ulcers.
The above points are just a few things to consider, but ones we find are significant to many of our patients. Patients over the age of 40 need to be aware that if their eyesight is corrected for nearsightedness, this will not completely eliminate the need for glasses in the future. Many people may need glasses for farsightedness as they age. Also, women who are pregnant or nursing are not good candidates for LASIK, as hormone changes can affect prescreening vision tests. Six weeks following the baby's delivery and if the mother isn't nursing, she can be properly evaluated for surgery.
The great news about LASIK eye surgery is the results are so beneficial for such a large percentage of people. Having your procedure with Eye LASIK Midland couldn't be easier. You actually work with our local eye doctor in San Angelo. When you're ready to discuss your possible procedure, we're here for you. Contact us today for a free evaluation by clicking HERE or on the image below.