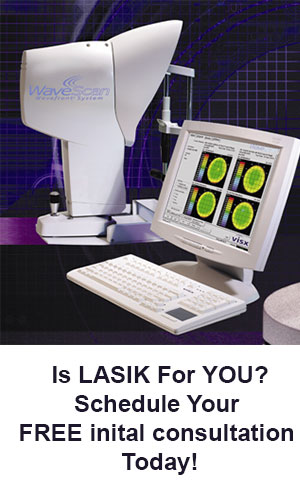 What is the IntraLase Method?
The IntraLase Method is a 100% blade-free approach to creating your corneal flap— the thin flap of tissue that the doctor folds back in order to perform your LASIK procedure.
How does it differ from other methods of creating a corneal flap?
The only other way to create a corneal flap is by using an instrument called a microkeratome. A microkeratome is a hand-held steel blade that makes a cut as it travels across the cornea. With the IntraLase Method, a blade never touches your eye.
How does the IntraLase Method work?
Tiny pulses of laser light pass harmlessly through the outer portion of your cornea and form a uniform layer of microscopic bubbles just beneath the surface of your eye. Just prior to LASIK surgery, the doctor can lift the corneal flap by gently and easily separating the tissue where these bubbles have formed.
Besides being blade free, what other benefits are there to the IntraLase Method?
IntraLase Method virtually eliminates the most severe sight-threatening complications. While LASIK complications are rare, when they do occur they are primarily related to the use of the microkeratome. The Method is 100% blade-free, exceptionally advanced, and has been shown to improve outcomes for more patients.1 And patients report better quality of vision overall, particularly in terms of their ability to see well in low light
Is the IntraLase Method proven?
To date, the IntraLase Method has been used in hundreds of thousands of LASIK procedures around the world.
How long does it take to create a flap using the IntraLase Method?
The creation of the flap itself takes only about 15-20 seconds per eye. Including preparation time, the LASIK procedure takes about 10 minutes total.
Is it painful?
No—the doctor applies drops to numb the eye.
What's the reaction of patients who have experienced the IntraLase Method?
In a clinical survey, the vision in the IntraLase treated eye was preferred by LASIK patients 3-to-1 over the vision in the microkeratome-treated eye.
Ready to decide if laser vision correction surgery is for you? Contact Eye LASIK Midland for a free evaluation. Click HERE or on the image below to schedule your free consultation.