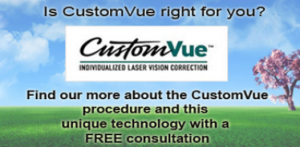 CustomVue LASIK is currently the leading technology in the industry that offers patients peace of mind and offers a number of benefits that a traditional LASIK eye surgery procedure doesn't.
Tailored Technology For You
A CustomVue LASIK eye surgery procedure uses advanced wavefront technology that tailors your LASIK procedure to the exact needs of your eye by scanning every millimeter of your cornea, including any and all imperfections, aberrations and irregularities.
How CustomVue LASIK Eye Surgery Procedure Works
The wavefront technology scans your eye by sending a safe pulse of light through your pupil to the retina at the back of your eye. As the light bounces from your retina back to the device it is translated into a pattern that maps any and all irregularities in your vision. This data is then used to create a precision 3D image or map that displays the unique characteristics of your eye. These measurements are then used by your ophthalmologist to program the laser for your corrective surgery, delivering extremely precise and accurate results. CustomVue LASIK allows ophthalmologists to treat a wide variety of refractive errors. Whether you are nearsighted, farsighted or simply have astigmatism, the likelihood that LASIK using wavefront technology can treat your refractive error is significantly higher than with traditional LASIK procedures.
Benefits of CustomVue LASIK Eye Surgery Procedure
Because of the precision CustomVue LASIK offers, there are a number of benefits to this advanced technology aside from the precision and control it offers. These benefits include:
Clearer vision post-operatively
Improved contrast sensitivity
Less incidence of glare at night, and in some cases improvement of previous glare issues
Reduction of changes in vision in the future that may require the need for enhancement
CustomVue LASIK eye surgery procedure allows your surgeon to not only correct your refractive error (your need for glasses or contacts) but also any imperfections in your cornea that may be causing you glare at night or problems with contrast sensitivity that you may not even know you have. Vision is often much clearer shortly after a CustomVue LASIK eye surgery procedure and the chance of vision better than 20/20 is greatly increased. The risk of future changes in vision that typically occur with traditional LASIK procedures is also greatly reduced with CustomVue LASIK.
Want to know more about the benefits of the CustomVue technology? Contact us here for a FREE consultation!


Eye LASIK Midland is a group of over 30 eye doctors & surgeons in W. Texas who for the last 14 years have combined their talents to provide the people unsurpassed quality laser refractive eye care. Visit our website and see search for doctors in our network. https://eyelasikmidland.com/doctors-networks/