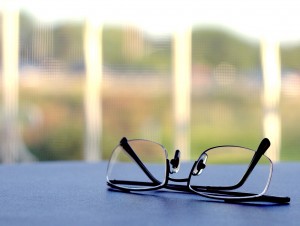 If you are like many of our patients, being able to pay for LASIK is the only thing that stands between you and having the procedure. Well, we've encountered a "real life" story we'd like to share…one that we hope not only helps you pay for LASIK, but one that you find relatable.
Stacy's Story
"I have worn glasses since I was 10 years old. Honestly, I don't really remember my life before glasses. As long as I can recall, I have had problems with my vision…
I hated being the kid in school who wore glasses. The glare off my glasses in my yearbook pictures one year made me consider contacts. After visiting the eye doctor and getting contacts, I felt like a new person! No more glasses!
However, as I approached my college years, I realized how inconvenient contacts were as well. Running late and forgetting them, getting something in my eye and feeling like I could never get it out, or the worst…falling asleep with them in (I only made that mistake once!)
After I graduated from college and began a career, I was determined to have LASIK. I was tired of the struggle I had always had with first glasses, then contacts. However, just because I had a job didn't mean that I had the money to go out and have an expensive procedure to correct my vision…I could barely make ends meet!
I knew that in order to pay for LASIK, I would have to make some changes. I strategically determined that to be able to have LASIK in a year, I would have to save around $200 a month (on top of what I already had saved). Yes, for me this meant not going out to dinner (as often) and not getting to splurge on shopping trips. However, it was a sacrifice I was more than willing to make.
After 6 months of being at my new job, I was able to contribute to my health savings account. Little did I know at the time, I was able to use that to pay for LASIK! I found out at my LASIK consultation that my policy paid for a portion of it…this was a welcome surprise, as I was closer than I thought to being able to pay for my procedure.
A few weeks later, I went in for LASIK. Words cannot describe the excitement of being able to see. My vision was much better than when I wore glasses or contacts! And the icing on the cake? I was able to pay for my surgery in full, entirely on my own (in less than a year)!
I understand it is harder for some people to put away money than it is others, but it is most definitely a sacrifice worth making. My advice? Designate a certain amount a month (even if it's only $10!) that you will set aside for LASIK, and check with your insurance company to see if they have any LASIK coverage. LASIK is truly one of the best things I've ever done…and I know you'll think so too!"
Wow! What an amazing story. We understand that paying for LASIK is not always easy and sometimes, sacrifices have to be made. However, we want to help. We offer interest free financing and affordable payment plans! To learn more, give us a call. Or, we'd be happy to meet with you! Request a FREE consultation here.