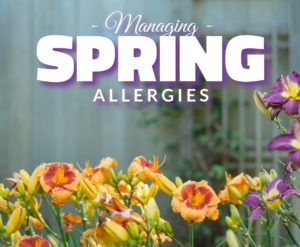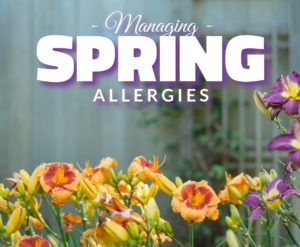 March winds, April showers, and May flowers are all beautiful indicators of warmer weather and the end of winter. However, those things also have another thing in common. Though it is dependent on region, spring is often labeled as the worse season for allergy sufferers. Read on for tips from the EyeLASIK team on managing spring allergies.
Know Your Triggers
Some people are allergic to everything. However, it's important to know what is actually triggering your allergy attacks. You can wing it based on past experiences or you can meet with an allergist who can conduct various testing. The testing, while time-consuming and (literally) irritating, can help you more effectively combat your allergies.
Protect Your Home
Simple solutions can help you to preventatively manage your spring allergies. Here are some easy tips that can keep irritants and allergens out of your home.
Remove shoes at the door before walking through your home.
Frequently change out your air conditioning/heating filters.
Use a good quality vacuum with a HEPA-filter.
Bathe furry family members often, particularly indoor/outdoor pets.
Opt for a minimalist look by tossing dust-collecting pillows and upholstered items.
If possible, choose tile, stone, or wood flooring, as carpets can be allergen gatherers.
Clean your house! Scrub kitchens, floors, and bathrooms regularly.
Toss the houseplants, particularly those that pollinate!
Wash towels, sheets, blankets, and stuffed animals regularly.
Use the air conditioner, which passes air through a filter, instead of fans.
Keep windows closed (even those spring breezes can be so nice).
Stay indoors on high allergen count days (check your local weather).
Prevent Attacks
Medication is one of the easiest ways to manage allergy symptoms. For many people, over the counter antihistamines can easily help allergy sufferers cope with seasonal attacks. However, some severe sufferers may need prescription medications. Be sure to talk to your doctor about eye drops, nose sprays, and oral medications that can help make spring allergies a bit more bearable.
When You're In The Throes Already
Sometimes, all preventative measures in place, allergies happen. Here are a few suggestions on how to easy the suffering:
Take a shower. The steam can help relieve the tenderness of sore eyes, ears, and throats.
Drink plenty of clear liquids. We know, we know…this is the medical solution for everything, right? However, it's important to stay hydrated. Hot tea works wonders, too.
For eye allergies, keep your face clean. Washing your face regularly keeps allergens from your face.
Additionally, you can ease eye allergy pain and irritation by applying a cool compress to your face for several minutes.
Though we can't fix your eye allergies for you, we can correct your vision with LASIK. Be sure to set up your complimentary consultation so you can see clearly…well, unless you have watery allergy eyes.