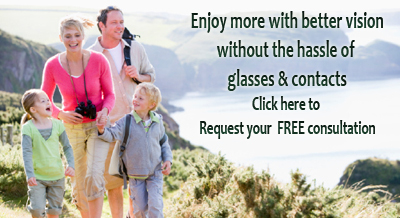 With spring just around the corner, you're probably thinking about all the ways you can have some fun in the sun. While catching some rays can be a good thing, if you don't protect your eyes, catching any rays at all can be a really bad thing. If you are exposed to the UV rays from the sun for long periods of time without any eye protection, you are putting yourself at risk for a number of preventable eye diseases.
Some of these include:
Cataracts
Skin cancer of the eye lids and surrounding areas
Melanoma of the eye itself
Macular degeneration
Whenever you are out in the sunlight, it is important to wear sunglasses – but not just any sunglasses. There are a few things you need to look for in a pair of sunglasses other than how you look when you wear them.
Choose the Right Sunglasses for Healthy Eyes
The most important thing to remember when choosing a pair of sunglasses for healthy eyes is that darker lenses are not necessarily better. The lenses need to absorb UV rays. A pair of dark sunglasses that do not absorb any UV rays can actually be more dangerous. The darker the lenses, the more your eyes dilate, meaning more UV rays are able to enter your eye.
Make sure the sunglasses say they protect your eyes from UVA and UVB rays. The label should say 99 to 100 percent UV absorbent or UV 400.
You should also choose a pair of sunglasses that provide maximum coverage; the bigger the frame, the better the coverage. Wrap-around sunglasses are a great option because they block UV rays that can enter from the side.
If you're going to be on the water, your risk of damage from the sun's rays is doubled because of the reflection of the light off the water. You may want to invest in a pair of polarized sunglasses, which will help block glare as well as UV rays.
Beware of Older Sunglasses
If you already have a favorite pair of sunglasses, it's important to make sure they are in good condition. If you see any scratches or other signs of wear on the lenses, have them tested by a licensed optician to make sure they are still effective. Scratches and abrasions can affect the ability of the lens to filter UV light.
No matter what your style, select sunglasses with the right protection everytime. Selecting the right sunglasses can be expensive, especially prescription sunglasses. Ditch that expense with laser vision correction.
Contact Eye LASIK Midland for a free consultation!