If you are looking for a Midland LASIK surgery center, look no further than the team at EyeLASIK Midland. The team of EyeLASIK Midland strives to bring our patients the most modern technology, state-of-the-art surgical facilities, and most experienced surgeons in the area. There's no need to travel to a larger city to get incredible LASIK results and patient care. EyeLASIK Midland is proud to be the premier Midland LASIK surgery center.
Midland LASIK Surgery Center Technology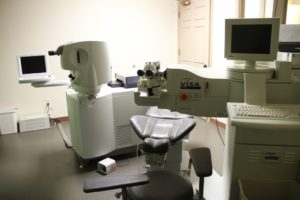 Are you anxious about the accuracy of LASIK? EyeLASIK Midland's WaveScan System delivers exceptional measurement accuracy to improve the precision of the overall procedure. The components the WaveScan technology help to deliver the most accurate results for the broadest range of visual conditions. We understand that one size does not fit all, especially when it comes to LASIK. The WaveScan System accurately maps the dimensions of both eyes to produce the best results possible for each individual.
Additionally, EyeLASIK Midland offers the iLASIK technology suite. This program is so advance, it is approved for the use of our NASA astronauts and U.S. fighter pilots. The experienced surgeons of EyeLASIK Midland utilize the latest blade-free, Wavefront-guided procedures. Our surgeons have an exceptional record of consistent quality, safety, and results.
Our Approach Is Different
At EyeLASIK, our Midland LASIK surgery center has a different approach to laser vision correction. Our surgeons only perform the LASIK procedure itself. Patients continue to work with their own optometrist for pre- and post-op treatment. Our approach allows patients to work primarily with their own doctor, with whom they already have an established relationship. Want to know if your optometrist is in our doctors' network? Click here.
When you're ready for a Midland LASIK surgery center, EyeLASIK Midland understands your needs. We offer top technology, skilled surgeons, and a friendly staff to make the road to seeing clearly a smooth one. To find out more, contact us to request your complimentary consultation for LASIK.
We can't wait for you to experience a life free from glasses and contacts!